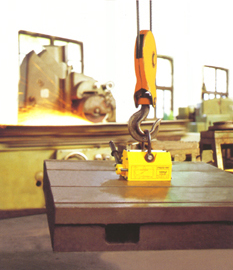 Pro-Lift™ PERMANENT MAGNET LIFTER

Permanent load lifting magnets

Capacity: 100 - 6000 kg (Flat material)

Ideal tools for easy, quick and thus economical transport of heavy objects made of ferro-magnetic material. The load is not affected mechanically which allows lifting of flat as well as round material.

The permanent magnets do not require electric energy and will leave only minor residual magnetism on the material after use.
| | | | |
| --- | --- | --- | --- |
| Model | Rated Lifting Capacity (Kg) | Max. Breakaway Force (Kg) | G.W. (Kg.) |
| PROML-01 | 100 | 350 | 3 |
| PROML-03 | 300 | 1050 | 10 |
| PROML-06 | 600 | 2100 | 24 |
| PROML-10 | 1000 | 3500 | 50 |
| PROML-20 | 2000 | 7000 | 125 |
| PROML-30 | 3000 | 10500 | 220 |
| PROML-60 | 6000 | 21000 | 420 |